While power restoration continues to progress, Comcast still has a number of facilities in the impacted areas that are running on generator.  These are critical locations that run our network, particularly in Panama City and Marianna.  For example, our Marianna Headend continues to run on generator with no commercial power for almost two weeks.  This is a critical facility that supports the entire Marianna network.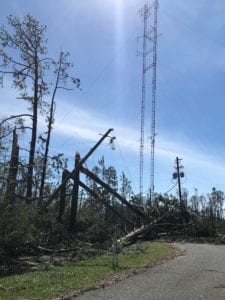 While we are coordinating directly with the power companies throughout the market, we continue to sustain to cuts to our fiber plant caused by debris removal trucks and other third-party restoration crews.  This hinders our restoration efforts, as it requires our crews to go back and repair the new lines recently strung.  Notably, our lines are visibly marked with red flags on them, particularly those on the ground to indicate they are live and directing other crews not cut or remove the lines.
In Panama City, where our plant was virtually destroyed, we are marshaling every resource to quickly rebuild the network so we can restore services to this area.
In Marianna, while our network also sustained massive damage, we have worked to get special lines restored for the Jackson County EOC, City of Marianna and Police Department, Marianna Shelter, Hospital, and other critical first responders and infrastructure facilities.  We recognize the importance businesses play in the Marianna community, and we our working with them to prioritize restoration efforts, along with our residential customers so we can get them back up as soon as possible.
Our Xfinity WiFi Hotspot van continues to be in Panama City every day located at the Lynn Haven Walmart Supercenter parking lot daily from 9am – 5pm.  The WiFi van is in the northern section of the parking lot near the store's "Market & Pharmacy" entrance.
We are back to normal business operations in Tallahassee, Dothan (Alabama) and Panama City Beach.  Our crews are out every day in these areas working with individual customers, homes and in neighborhoods to restore any pocket outages that may exist.