July 18, 2022 – The doors of a local theatre in Sarasota opened recently to take students on an epic adventure: an exclusive screening of Jurassic World: Dominion, one of the most anticipated films of the summer.
Full of excitement and with bright smiles on their faces, the students sported their exclusive VIP passes as they enjoyed several interactive opportunities before the movie started, including checking out a Jurassic Park Jeep and being greeted by a friendly dinosaur.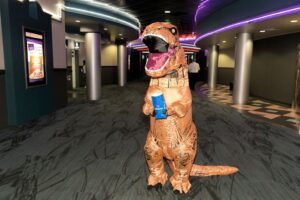 The students are members of the Boys & Girls Clubs of Sarasota, DeSoto County and The Sun Coast, which are all long-time community partners of Comcast. In Sarasota and DeSoto County, Comcast has established Lift Zones at Boys & Girls Clubs locations. Through these Lift Zones, the students have been able to stay connected with free WiFi access, allowing them to complete schoolwork, participate in virtual classes, and more.
"One of the greatest things about working for Comcast NBCUniversal is fostering partnerships with local organizations to help make a difference in our hometown," said Jen Boyett, Senior Manager of External Affairs for Comcast in Florida. "The film is a testament to the collaborative, innovative nature of the media and entertainment industry – which is something we, along with our community partners, hope to inspire among students and families across the country."
This screening and others across the country, including a recent event in Miami, are part of Comcast NBCUniversal's "Jurassic World Rule Your Future STEAM Initiative," which addresses the lack of STEAM preparation and digital skills among low-income and first generation-to-college students. As part of this program, the Sarasota students also received "Jurassic World Rule Your Future STEAM Initiative" activity kits. Each kit contains a variety of branded items and school supplies, including an Activity Book designed specifically for Lift Zone partners.
These programs and events are made possible through Project UP, Comcast NBCUniversal's comprehensive initiative to advance digital equity and help build a future of unlimited possibilities.