Friday, Sept. 1, 2023 at 3:30 p.m.
Throughout much of the areas impacted by Hurricane Idalia, power has been restored and Xfinity network outages have been resolved. However, due to powerful winds and debris knocking down lines, poles and equipment needed to run our network, our customers in east Tallahassee and Live Oak may still be experiencing service interruptions. Where possible, we have deployed generators as a temporary solution to power our network equipment and will move these generators as necessary to other communities as we continue our repair and restoration efforts.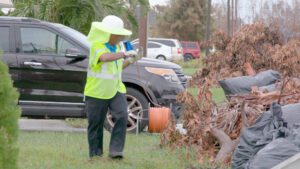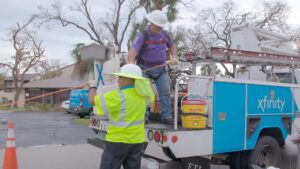 The storm also damaged our fiber lines in Perry, Quitman and Madison. Service has been predominantly restored in these areas, but our response team continues to work on resolving pocket outages, which may still be impacting individual homes, streets or neighborhoods in these areas.
Please know that our response teams will be working through the holiday weekend to get you connected as quickly as possible. We apologize for the extended outage and will not stop until all our customers are back online. To help aid in connectivity, we recently opened 141,000 public Xfinity WiFi hotspots for anyone, Xfinity customer or not, to join for free.
How to Get Connected to Xfinity WiFi Hotspots
For a map of public Xfinity WiFi hotspots, which are located both indoors and outdoors in places such as shopping districts, parks, and businesses, visit Finder.wifi.xfinity.com.
When a hotspot is within range, select the "xfinitywifi" network on a device's list of available networks and launch a browser. Sign-in options will appear for both Xfinity customers and non-customers.
Xfinity internet customers can sign in with their account credentials and they will be automatically connected to Xfinity WiFi hotspots in their range in the future. Alternatively, they can download the Xfinity WiFi Hotspots app and sign in with their account credentials.
Non-Xfinity internet subscribers need to look for the "Get Connected" section and agree to the Terms and Conditions to be connected.
Please note that if a user does not see the "Accept and Connect" button, the hotspot he or she is trying to connect to is in a Xfinity customer's home and is not open to the public.
Non-customers will be able to renew their complimentary sessions every 2 hours.
For the latest outage information for your home, please visit the Xfinity app or  https://www.xfinity.com/support/status-map
---
Thursday, August 31, 2023 at 5:00 p.m. 
After the storm has passed, our response teams assess network damage, and once power is restored – we are able to begin restoration efforts. The safety of our customers and employees is paramount. We urge our customers to please stay away from any downed lines and heed official safety warnings, as these downed lines may be extremely dangerous.   
If you see a downed line, please report it via the Xfinity App. 
Go to the Xfinity App

 

Click on the two dots at the top right to chat with the Xfinity Assistant

 

When prompted to 'Ask a Question,' type 'Hazardous Wires' to alert the team that you are reporting a downed line

 
Additionally, it may help you to know how we restore services following a power outage: 
Emergency management procedures in Florida dictate that electricity must be restored first and Comcast must receive clearance that it is safe for our crews to begin any restoration work. Should customers experience a loss of service due to a power outage, local power must first be restored before Xfinity video, phone or internet services can begin working again.

 

If customers have electricity but not Xfinity services, Comcast recommends restarting or resetting devices, including wireless gateways, modems, routers, and cable boxes.

 

In some cases, customers may have power back but not their Xfinity services because commercial power has not been restored to our network in that area.

 
---
Wednesday, August 30, 2023 at 8:00 p.m. 
Hurricane Idalia made landfall on Florida's Big Bend this morning as a Category 3 hurricane. Comcast has activated its emergency response teams to ensure customers, employees and the communities impacted get the assistance they need.  
NETWORK UPDATE 
Our teams are working as quickly and safely as possible to assess damage and to restore connectivity where possible. Latest reports say there are as many as 300,000 people in Florida currently without power, so while your Xfinity network may not be damaged, you may be offline due to a power outage. Once power is restored, we will be able to begin our restoration efforts. We are working closely with emergency teams across the state including first responders, power companies, and emergency crews to restore services as quickly as possible.  
In the hardest hit areas of Perry, Quitman and Madison, the Xfinity network did sustain some fiber damage and our emergency teams who were staged nearby earlier today are already on site and repair efforts are underway.   
We have also activated Storm Team 1, our employee response team of more than 700 technicians from nearby states to help our Florida response team get customers back online as quickly as possible.  
OTHER RESTORATION ACTIVITY UNDERWAY 
In preparation for the storm, the following support was also put in place earlier this week to aid our customers, employees, and impacted communities:  
Opened 141,000 of our Xfinity WiFi hotspots in impacted areas we serve across Florida

to help residents and emergency personnel stay connected. These hot spots are available for anyone to use, including non-Xfinity customers, for free.

Removed the data threshold for Xfinity Mobile and Comcast Business Mobile customers and removed data overage charges for "By the Gig" Xfinity Mobile and Comcast Business Mobile customers from August 30 to September 12.

 

Deployed 2,100 emergency generators ready to provide a temporary power solution to communities to

help

get them back online

faster and

routed Xfinity WiFi enabled vans to communities impacted, including to Jacksonville, Florida which sustained high winds and damaging rains. 

 

Ensured local markets had a surplus of emergency supplies needed for rapid repairs of our network including deploying nearly 300,000 feet of fiber and cable to communities impacted for restoration work.

 

 
The safety of our customers and our employees remains our top priority. Our emergency response teams are performing real time network evaluation checks to ensure continued operations and identify outages. Please heed official safety warnings and always avoid downed lines, which may be extremely dangerous. You can report down lines through the Xfinity app. 
For the latest outage information for your home, please visit the Xfinity app or  https://www.xfinity.com/support/status-map